Discover cool things to do
in Lake Tahoe!
Book with confidence Real-time availability, instant confirmation, and free cancellations.
Top quality activities Over 146 tours and activities you'll love and remember forever.
Thousands of reviews Verified traveler reviews empower you to pick the best experiences.
Award-winning Support Friendly customer service, when you need it: Call, click, or chat.

Free Cancellation
You'll receive a full refund if you cancel at least 24 hours in advance of most of our tours.

Verified Reviews
Book with confidence with thousands
of verified traveler reviews from
Cool Lake Tahoe and TripAdvisor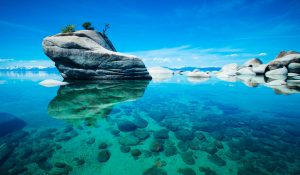 Things To Do in Lake Tahoe
Cool Lake Tahoe brings you a curated collection of the best things to do at Lake Tahoe, Northern California's incredible high-mountain haven where bustling lakefront resorts, glamorous casino nightlife, and an awesome outdoor sports playground amaze visitors from around the world. Summertime lake cruises, luxury resorts, mountain hikes, skiing on some of America's best slopes—Lake Tahoe's attractions are endless.
Lake Tahoe straddles the California/Nevada border about 40 miles southwest of Reno Nevada, the closest large city. Perched over 6,200 feet up in a giant basin set among the peaks of the snowy Sierra Nevada mountains, lovely Lake Tahoe is known for its crystal-clear, cobalt-blue water, expansive size, and great depth. It is North America's largest alpine lake, and at 1,645 feet deep is second only to Oregon's Crater Lake, America's deepest at 1,949 feet. Surrounded by towering peaks and forested slopes, Lake Tahoe is a 4-seasons recreation mecca.
Lake Tahoe first gained fame as hopeful gold seekers passed through the area on their way to the American River valley during the 1849 California gold rush. In 1859, when the vast silver deposits of the Comstock Lode were discovered just 15 miles east of the lake near Virginia City Nevada, the forests of the Tahoe Basin supplied mine timbers and the lake became a transport hub as logging and mining communities sprang up along the shoreline.
The transcontinental railroad route pushed through the Reno area in 1868, highways followed in the early 20th century, and the beauty of Lake Tahoe and the surrounding mountains began to attract many tourists. Now millions visit the area each year to enjoy everything from scuba diving and sailing to deep-powder skiing, wilderness hiking and camping, high-stakes gambling, and much more.
Adventurous visitors can find endless entertainment in Tahoe, minutes away in nearby Reno, and at the historic mining towns of Carson City and Virginia City. Cool Lake Tahoe puts local knowledge at your fingertips and lets you organize your Tahoe visit on any tablet or smartphone so you don't waste any precious vacation time.
Whether you are planning a day visit or an extended stay, enjoy the beautiful photos and descriptive details of the best Lake Tahoe tours and activities here at Cool Lake Tahoe. Then take advantage of secure online booking to arrange a great Lake Tahoe itinerary. Decades of experience back our 100% secure online booking technology, designed to provide real-time availability and instant confirmations, with all vouchers and important details delivered right to your device. Our system is super-simple and user friendly, but dedicated customer support agents are available 24/7 to help with any questions via phone, text, chat, or email. Cool Lake Tahoe is your personal connection to the top Lake Tahoe attractions!
Lake Tahoe Attractions
What are the best things to do in Lake Tahoe? At Tahoe, nature still rules and adventure is defined by the seasons. In the winter, snow piles high and makes for perfect skiing on the slopes of legendary Squaw Valley/Palisades, beginner-friendly Alpine Meadows and Northstar in California, or Diamond Peak just outside of Incline Village on the lake's northeastern shoreline in Nevada. Families can enjoy playing in the snow at one of several slopes designated for riding sleds, tubes, and saucers. In the evening, sit by the fire in a cozy lodge or head for the bright lights, fine dining, and gaming tables of a casino.
In the summer, the blue water is the star, and kayaking, fishing, sailing, or relaxing scenic cruises around the lake are all excellent options. Bike rides along the shoreline or even a circle tour around the entire lake are perfect ways to take in the reflections of clouds and mountains in the mirror-like water. Well-marked hiking trails abound and scenic picnic spots are everywhere. Campgrounds like the one at famous Emerald Bay State Park are scattered throughout the area. If you are physically ready and properly equipped for it, the Tahoe Basin offers plenty of opportunities for deep backcountry expeditions along with challenging rock climbing and mountaineering.
There is also a lot to explore beyond Lake Tahoe and the lakeside communities. Day tripping to Reno, the self-titled Biggest Little City in the World, gives you access to all the typical urban amenities in a town that is an older, smaller version of Las Vegas. Reno actually predates Las Vegas as a gambling destination, and the casino hotel strip dominating downtown features classic originals like Harrah's Club, established in 1938, the Circus Circus, and the Nugget. In the hills south of Reno, a visit to Virginia City takes you back to the wild mining days of the 1860s. Carson City, about 20 miles east of Lake Tahoe, is a former California Immigrant Trail wagon train stop that became a silver rush town in 1859 and is loaded with history and fun things to see and do.
Recommendations: The Best Things to Do in Lake Tahoe
If you visit Lake Tahoe in the summer or early fall when the weather is clear, getting a view of the full scale and beauty of this amazing lake is a must. The ultimate thrill is a helicopter tour high above the lake and its surrounding peaks. A complete circle coach tour around the lake shore is a wonderful way to spend a day and the photo opportunities are plentiful. If you drive up to Tahoe, guided self-driving circle tours are convenient and allow lots of freedom to sightsee, picnic, and maybe take a swim.
When the snow flies at Lake Tahoe, you have to go skiing. If you are up to the challenge, nothing can match Squaw Valley/Palisades. Just make sure you have what it takes before trying infamous runs like Red Dog, The Slot, and KT-22. An added benefit is excellent views of the lake, weather permitting. If you are more into relaxed cruising on perfect, soft groomed runs, head for Northstar or Alpine Meadows. And with all the backcountry terrain surrounding the lake, there are hundreds of miles of inviting trails for cross-country skiers along with insane vertical lines for well-prepared extremists ready to hike uphill all day then risk life and limb. Bring a Pieps and shovel.
One of the best Lake Tahoe day trips is the scenic tour from South Lake Tahoe to Virginia City. Travel from the forested slopes to the craggy desert rock country south of Reno, then to the old mining boomtown of Virginia City. A registered US National Historic Place, Virginia City is the place to gamble, eat, and drink at places like the Bucket of Blood Saloon and the Delta that capture the Old West, see historic landmarks from the mining days, and check out museums. Your visit begins with a fun 7-mile rail trip to Gold Hill on an antique train pulled by a steam locomotive, then you can wander the town and take in the unique atmosphere.
Enjoy browsing Cool Lake Tahoe to see the best of Lake Tahoe visitor attractions, then book with confidence that all your personal information is fully encrypted and completely secure, and your bookings are confirmed based on real-time availability. The team at Cool Lake Tahoe welcomes you to Lake Tahoe, a recreational paradise that will leave you with the vacation memories of a lifetime. Plan your visit now, and feel free to contact our customer service team if you have any questions.